A sad piece of news causes me to leave this entry in my blog today… Maestro Fruhbeck de Burgos passed on this morning.
Maestro Fruhbeck de Burgos was my first "boss" at the Wiener Symphoniker from 1994 to 1996.  He was a very fair person, who knowingly kept a respectful distance to each of his musicians. He made no distinctions, no exceptions, he treated everyone equally!
I´d like to share a little anecdote of a situation that turned out to be a key moment in my professional development…
It was my first concert as first concertmaster, with Raphael Frühbeck de Burgos on the podium of the Wiener Symphoniker at the Wiener Konzerthaus. On the program, among other things, The Three Cornered Hat by de Falla.  There was a small discrepancy between the first violins, and I tried my best to follow the conductor in order to smooth out this minimal irregularty…  With no success. After the concert – as etiquette dictates  – I went to the Maestro´s room to thank him and to apologise for the little incident.
In his typical short and concise manner he said, "Miss Kolar I´ll tell you something – never play with the conductor, but always with the section!"
My dear readers, you have no idea what a long road the dear, venerated Maestro spared me with that piece of advice! No arduous learning from critical situations – simply one distinct pointer, the depth and clarity of which stay with me until this day.
Many years later we met again at more or less regular intervals: in Bergen, in Seville, and my last encounter with him was with "his" Carmina Burana with the Orquestra Nacional de Espana in Madrid before Christmas.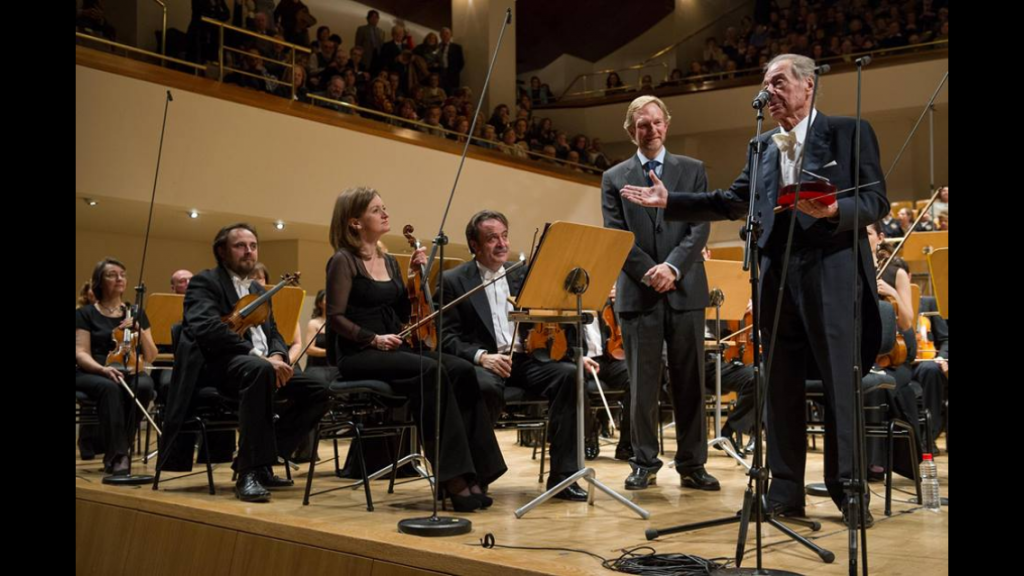 Following the concert there was a ceremony to honour him on the occasion of his eightieth birthday.
Thank you, Maestro Frühbeck de Burgos! May you return to all of our source, accompanied by the music of angels!